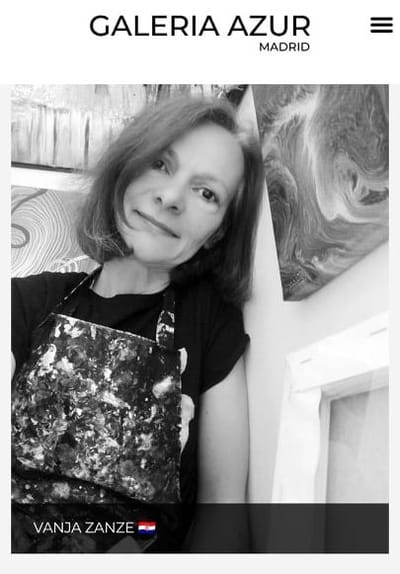 I live in Croatia, a beautiful country in Europe. I was born in 1966 and art has always been a part of my life. My story is beautiful and hopefully story. It is story of rebirth and miracle in all senses. After I spend my whole life writing poetry, short stories (4 published books), I suddenly felt strong connection with fluid technique. After shoulder surgery in 2019 that went wrong so I was close to death I felt I must paint. Fluid art amazed me and with pain in my right hand I started to write my acrylic story on canvas.
My first physical art exhibition was in December, 2019 in a small café in my City, Osijek. I was invited to an online exhibition at Centre for culture and information, Maksimir /Zagreb/Croatia.
In 2020 I won in 24h Gallery at Teelent Official on Instagram and I got my first catalogue from the digital exhibition.
On webpage Vijuga I was chosen as The best artist of the year 2020.
Presented by M. A. D. S. Artgallery Milan, Italy at June, 2021. That was my first International Art Exhibition "Coming out".
Presented by Galeria Azur Madrid, International Art Exhibition "Flanerie", July/August, 2021.
Physical exhibition.
My first International Award in Juried Art Competition "Art Show" International "in October /2021, for artwork" Cruella ".
My second International Art Award in Juried Art Competition in USA for artwork" By the rivers of Babylon ", December, 2021.Honorable Mention Award" Art Show International ".
Art Prize January 2022 at Galleryone962 Virtual Exhibition with artworks Cruella and Maleficent on Instagram and Galler wyone962 web page.
Talent Art Prize 2022, Art show international.
1. Prize Social Media Prize. European Art Awards 2022.
Exhibition ART FOREST FESTIVAL 2022, Nedelisce Croatia. (Physical)
Group Exhibition "Vrijeme rizika",Centar za kulturu na Pescenici,Zagreb,Croatia, 2022.(Physical)
My artworks are sold to U.S.A, Canada,Serbia, Croatia. I am present on social media as mix.art_vanja.